Attention To prevention
advocacy & resources
Together, let's create a lasting and meaningful change, and advocate for our own health and well being.
tobacco 21 bill
The Trojan Horse Bill
It increases the legal age to purchase tobacco and e-cigarettes to 21. However, some of these bills are flawed because they include provisions that are harmful to public health. To learn about our viewpoint on this bill, go to our blog and read "A Deeper Look Into The Tobacco 21 Bill".

advocacy & Policy
Do not let anyone argue that e-cigarettes are not harmful. Stand up to politicians and the tobacco and e-cigarette giants.
"Electronic cigarettes (e-cigarettes) and vape devices have rapidly become the most common tobacco products used by youth, driven in large part by marketing and advertising by e-cigarette companies. There is substantial evidence that adolescent e-cigarette use leads to use of combustible tobacco products. E-cigarette companies commonly advertise that e-cigarettes contain nicotine, flavoring chemicals, and humectants (propylene glycol and/or vegetable glycerin), but toxicants, ultrafine particles, and carcinogens have also been found in e-cigarette solutions and emissions, many of which are known to cause adverse health effects. Most major e-cigarette brands are owned by big tobacco companies that use similar marketing and advertising strategies to attract youth users as they did with traditional tobacco products. In this review, we provide an overview of e-cigarettes and vape devices with an emphasis on the impact for the pediatric population. We describe the vast array of e-cigarette devices and solutions, concern for nicotine addiction, and the scientific background on the known health harms. There are accompanying visual depictions to assist in identifying these products, including newer e-cigarette products and JUUL. Because current federal regulations are insufficient to protect youth from e-cigarette use, exposure, and nicotine addiction, there are recommendations for pediatricians and pediatric health care providers to counsel and advocate for a tobacco-free lifestyle for patients and families."
https://pediatrics.aappublications.org/content/early/2019/05/21/peds.2018-2741?sso=1&sso_redirect_count=1&nfstatus=401&nftoken=00000000-0000-0000-0000-000000000000&nfstatusdescription=ERROR%3a+No+local+token
Advocacy and policy goals
1.) REQUIRE MANUFACTURERS TO PAY A CERTAIN PERCENTAGE OF THEIR PROFITS OR SALES INTO A FUND THAT WOULD BE USED TO FUND EDUCATIONAL MEDIA CAMPAIGNS ON THE HARMFUL EFFECTS OF ENDS (ELECTRONIC NICOTINE DELIVERY SYSTEMs)
2.) INCREASE PRICE OR TAX OF E-CIGARETTES AND E-JUICE
3.) RESTRICT ADVERTISING NEAR SCHOOLS AND PARKS
4.) Regulate VAPE SHOPS FROM OPENING NEAR SCHOOLS AND PARKS
5.) INCREASE REGULATIONS ON E-CIGARETTE PRODUCTS
6.) BAN FLAVORINGS
7.) INCREASE THE LEGAL AGE TO PURCHASE TOBACCO AND E-CIGARETTES/E-JUICE TO 21 IN OUR STATE OF GEORGIA and at the national level
8.) INCREASE FINES TO SELLERS THAT ARE NOT ENFORCING THE LEGAL AGE TO PURCHASE E-CIGARETTE PRODUCTS
9.) enforce no underage ordering of e-cigarettes and e-juice online
The popularity of e-cigarettes and vaping among students has ballooned almost out of control. The number of teens vaping grew 900% from 2011 to 2015. Surgeon General Jerome Adams has called it an "epidemic of youth e-cigarette use."
To address concern, consumer notice has created a new guide that covers the dangers of vaping, is vaping safer than smoking, and what parents can do. Check it out by clicking on the image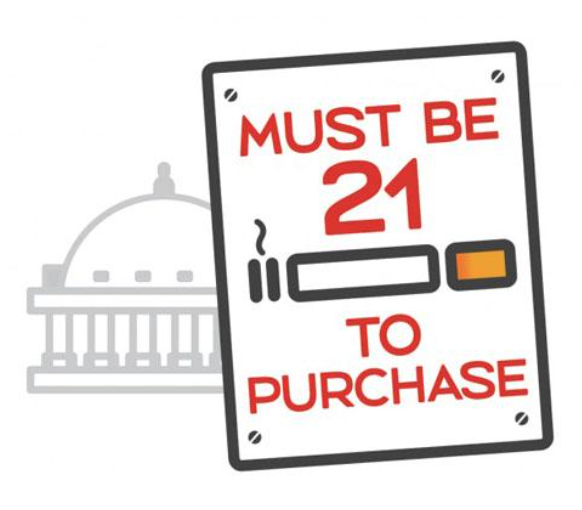 Tobacco 21 Georgia & Ban Flavors in Georgia
Ban Flavors because flavors hook kids
Increase legal age to purchase all tobacco products and e-cigarettes to 21 and get these products out of high schools
Toll of tobacco facts
"Despite enormous progress in reducing smoking, tobacco use is still the leading cause of preventable death in the United States and imposes a terrible toll on families, businesses and government. Tobacco kills more than 480,000 people annually – more than AIDS, alcohol, car accidents, illegal drugs, murders and suicides combined. Tobacco costs the U.S. approximately $170 billion in health care expenditures and more than $150 billion in lost productivity each year."